Marine, Global News
Impacts of the COVID-19 Pandemic on the Maritime Industry
25 March 2020
Article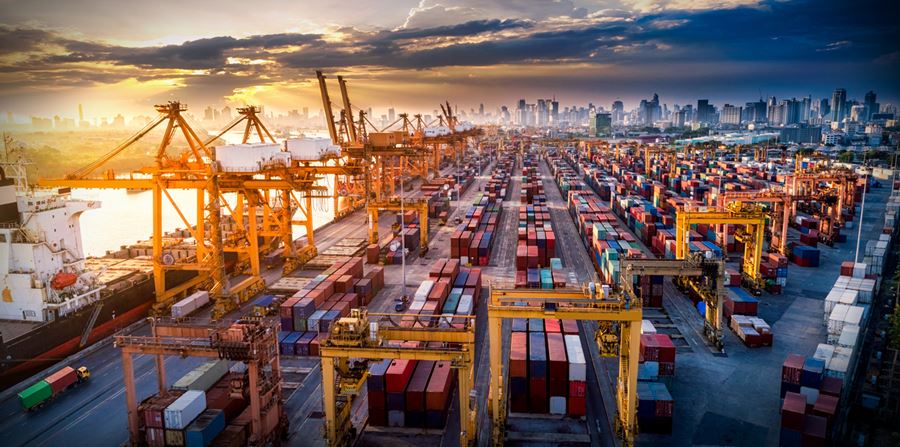 The novel coronavirus pandemic has upended the world and the global marine industry has been severely impacted from the beginning. First identified in Wuhan, China at the end of 2019, COVID-19 had spread to at least 169 countries with over 400,000 cases and over 18,000 deaths as of late March 2020. Several nations have closed their borders or instituted travel restrictions, schools, businesses, restaurants, and bars have been closed, and many cities, states, and entire countries are on lockdown.
As nations and businesses continue to grapple with containing the virus and flattening the curve of infections within their borders, the maritime sector struggles to maintain critical shipping, transportation, shipbuilding, and ship repair operations.
The Impact on Shipping: Oversea Shipments on the Decline
COVID-19 hit China as manufacturers and businesses were preparing to shut down for the Lunar New Year holidays, and those closures were extended as cities were locked down due to the virus. Production in most factories did not begin to restart until mid-February, and Chinese ports have seen delays as longshoremen and truckers return to work.
Following the massive outbreak of COVID-19, there has been a shortage of empty containers available in North America and Europe due to the high number of canceled sailings, and this lack of empty containers has caused delays in exports from the U.S., Canada, and all over the world.
Within the first few months of 2020, container exports from China to the U.S. dropped 22% and there were over 100 canceled sailings from China. At the same time, U.S. container ports, including Los Angeles, Long Beach, Oakland, Virginia, and Savannah have all reported between 9% and 22% reductions in container volume, with the Port of Los Angeles seeing the largest drop.1
With the pandemic now causing worldwide business and manufacturing to slow, reducing demand for goods from China, container volumes are expected to decline even further. There have been global supply chain disruptions, starting in China, then Korea and Japan, followed by Europe and North America. These disruptions will continue to ripple through industries as the pandemic goes on. Hyundai temporarily shut three plants in Korea in February because of a lack of available parts from China. Automobile manufacturing plants throughout North America and Europe have temporarily closed due to worker safety concerns and lack of parts. Analysts predict the pandemic to cause a 17 million TEU reduction in 2020 or about 10% of global container volume.2
The Impact on Transportation: Cruise Lines Halted Globally
The impact of COVID-19 on the $117 billion cruise sector has been devastating. To name a few, Carnival Cruise Line, Royal Caribbean Cruises, Holland America Line, Norwegian Cruise Line, Cunard Line, Fred Olsen Cruise Lines, Costa Cruises, Viking, and MSC Cruises have all suspended cruise ship operations for at least 30 to 60 days.3
As an example, Princess Cruises, one of the largest cruise lines owning 18 ships globally, has been greatly affected by the recent pandemic outbreak. In early February, a Princess Cruises ship, Diamond Princess, was quarantined after several passengers contracted the COVID-19 virus while aboard their ship. After more than 2 weeks of quarantine, 712 passengers and crew were confirmed to be infected and 7 people eventually died. Several other cruise ships subsequently reported infections among passengers and crew. By mid-March, all major cruise lines announced a temporary halt of global ship operations for 30 to 60 days.
The Impact on Shipbuilding and Repair: Greatly Affected Operations
Shipbuilding and ship repair facilities worldwide have been affected to different degrees by COVID-19.
Shipbuilders in China experienced delays in restarting operations but had all resumed work by the end of February.
Italian naval shipbuilder, Fincantieri, stopped production in Italy for at least 2 weeks starting on March 14.
Other European shipyards have modified their operations, and some are restricted to critical activities only.
Shipyards in the U.S. have not yet seen major disruptions, although several are encouraging employees to work from home where possible.
Delays to maintenance and repairs of vessels may lead to operational issues over the next year.
As the coronavirus pandemic continues and COVID-19 cases spread, the global marine industry may take a severe hit due to shipment, travel, and shipbuilding restrictions. We will likely see overseas shipments decline, cruise ships and other forms of transportation halted, and shipment production slow. Though times like these are unorthodox, we can hope the impact of this pandemic on industries like marine soon subside.
Sources
1. JOC.com
2. American Shipper
3. The Wall Street Journal
Has a recent catastrophe affected you?
Our experts are ready to help.