Global News, CAT
London's Extreme Heat and the Impact to Property
27 juli 2021
Artikel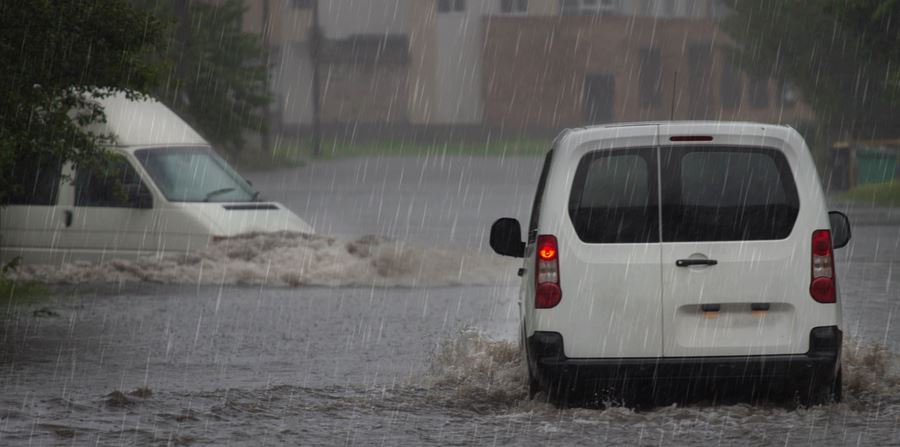 As of June 2021, the Met Office, the weather forecaster in the UK, has issued its first "extreme heat warning" seeking to advise the general public of potentially deadly extreme heat events. This follows the record-breaking number of heatwave deaths that occurred in England last summer. These events occurred over three periods: 23 - 27 June, 30 July - 01 August, and 5 - 15 August, where a level-three heat alert is issued and the mean Central England Temperature is greater than 20°C. It is estimated that for all three events, some 2,556 deaths are attributable to the heat that occurred.1
London's Extreme Rainfall
Similarly, on the same morning, a flood alert notice was received from the Environment Agency for the River Wandle area in the Boroughs of Wandsworth, Merton, Lambeth, Croydon, and Sutton, which noted, "Heavy rain and thunderstorms, bringing the potential for locally intense rainfall, are forecast to affect London from around 3 pm this afternoon, Tuesday 20 July."
The average monthly rainfall in July is 44.5mm. The weather event that occurred in London on the afternoon of Monday 11 July 2021 documented 47.8mm of rain in a 24-hour period in Kew (southwest London), most of it in just one hour, and made it the wettest day there since 6 July 1983 and the third wettest day on record. Putney Village in Wandsworth and Chipstead in Surrey both recorded more than 31mm of rain in one hour that day.
The London Fire Brigade reported more than 1,000 calls related to flooding. Thames Water stated that it had received more than 2,500 calls in five hours on that day, as sewers filled up and flooded causing inevitable destruction of property and personal belongings. Irrespective of the outcome of these various events, what once would have been deemed "freak weather events" are becoming more routine and expected.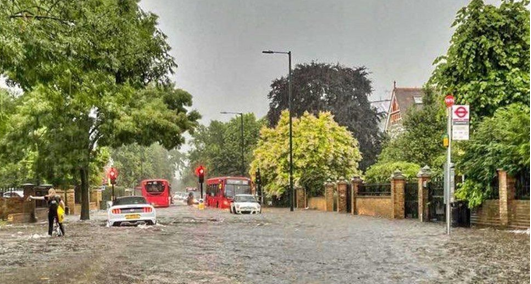 Barnes, London Roads Turned Into Rivers
Nine years after superstorm Sandy hit New York, flooding occurred in New York on 08 July 2021 during storm Elsa, flooding roads, subways, and homes.
Throughout Europe during the week commencing 12 July, flooding has similarly brought devastation, particularly in Germany.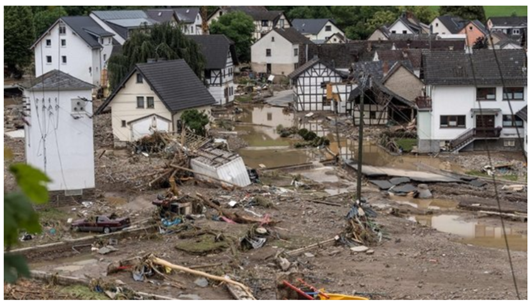 Ahrweiler, Germany Looks More Post-Earthquake than Flooding Affected
Likely Causes of Recent Extreme Weather
The record-breaking summer temperatures in parts of America and Europe have been driving the recent heavy rainfall, which in turn has driven flooding. With higher air and water temperatures comes higher evaporation. Higher evaporation leads to increased rainfall, with longer durations, and higher intensity and frequency.
Likely as a result of climate change, evidence also suggests that temperatures increase at a higher rate above the equator, meaning countries in the Northern Hemisphere, such as America and the UK, are likely to experience more significant changes. This has not only been noticeable during the summer months but has also disrupted weather patterns into late Autumn and Winter.
Unprecedented rainfall in November 2019 in Northern UK saw the first wave of flooding that mainly affected the East Midlands and Yorkshire. This was compounded by further isolated flooding in December and January 2020 before two named storm events, Ciara and Dennis, hit on successive weekends in February (8-11 February and 15-19 February, respectively). This led to the wettest February since records began in 1766 when England and Wales saw 169.67mm of rainfall and beating the previous record set in 1833.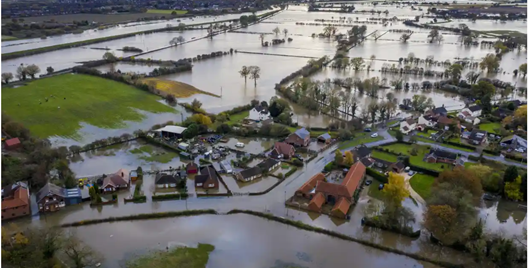 Flooding November 2019 at Doncaster, South Yorkshire
Impact on Property, Business, and Day-to-Day Life
The impact on property, businesses, and normal daily life is evident. Costs to Insurers are increasing and the exposure risk is difficult to estimate and predict. Lobbying of governments to undertake significant infrastructure projects and to address the impacts of climate change are key to addressing the more significant and long-term solutions to this problem.
London is particularly vulnerable to flooding, given much of the city is built on the River Thames floodplain, a movable flood barrier across the river, more than 1,700 feet wide, which has been in place since 1982. More recently, the city is building a new Super Sewer, a 15-mile tunnel under the Thames River, to carry away sewage and wastewater and prevent flooding. Although, its drainage system, with parts dating to the Victorian era, needs an upgrade to handle bigger volumes of rainfall.
An Urban Fix
A common issue seen in urban flooding is the lack of drainage away from walking paths and roads as cement is unable to absorb water. An ingenious solution to this is installing permeable pavements, which can absorb water and transfer it to other sources, such as urban green spaces. Installation of moveable or even permanent stilts to housing to raise them out of flood plains can be considered.
Urban planning with cities using strategic green spaces to absorb excess rainwater can be considered, and therefore reduce flood risk. In China, the concept of "sponge cities" has become popular, with irrigating gardens and urban farms helping to soak up excess water. In Europe, green roofs are another innovative solution to reducing flooding risk, with greenery absorbing stormwater run-off, and thereby preventing sewage overflow.
The recent flooding events can be seen as a sign that cities, such as New York and London, need to hasten adaptations to the effects of climate change, as well as smaller towns located in valleys and water run-off areas. The impact of these weather events on insurers and victims of the ensuing property damage demands more coherent and long-term remedies. These may be partially underwritten by attractive insurance premiums for enhanced protections, but as impacts continue to spread globally, this will surely require a global commitment and solution.
Source:
1. Public Health England records
Har din virksomhed været udsat for skade?
Vores eksperter kan hjælpe dig!