Company News
Nicole Brewer Named IAAI International Fire Investigator of the Year
Chicago, IL – 21 april 2022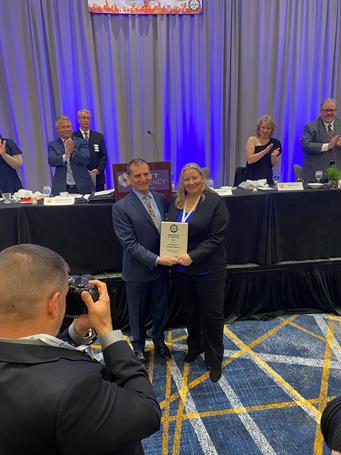 Envista Forensics, a global forensic consulting firm, is excited to share that Nicole Brewer, IAAI-CFI, ECT, CFEI, CFII, CI, Principal Consultant – Fire and Explosion, Envista Forensics, has been named International Fire Investigator of the Year by the International Association of Arson Investigators (IAAI).
IAAI, an international professional association of tens of thousands of fire investigation professionals, provides yearly awards, nominated by peers, presented at their annual meeting. The Investigator of the Year Award is an annual award given to an individual who has shown prominent accomplishments in the criminal and civil fields of arson control.
"I started my career in 1996 as a volunteer firefighter in Canby, Ore. and never would have imagined that I would reach such a high point in this amazing profession," said Brewer. "Receiving the IAAI Fire Investigator of the Year award is a huge honor."
Brewer is a Certified Fire Investigator, Certified Fire and Explosion Investigator, and Evidence Collection Technician with over 26 years of fire service experience and has provided expert testimony on multiple occasions in grand juries, trials, and depositions.
"Nicole is one of the rockstars on the Pacific Northwest fire investigation team and I couldn't be more proud of her.  She approaches every fire with professionalism and a customer service mindset that makes Envista stand out from our competition." shared Kristin Baldwin, District Manager, Envista Forensics.
To learn more about Nicole Brewer, visit her Expert Directory page, or she can be contacted at nicole.brewer@envistaforensics.com.  To learn more about Envista's Fire and Explosion Investigation services, visit our website at www.envistaforensics.com/services/fire-origin-and-cause/.