General
Building a Legacy: A Conversation with Envista's Lenny Alexander
23 februar 2022
Artikel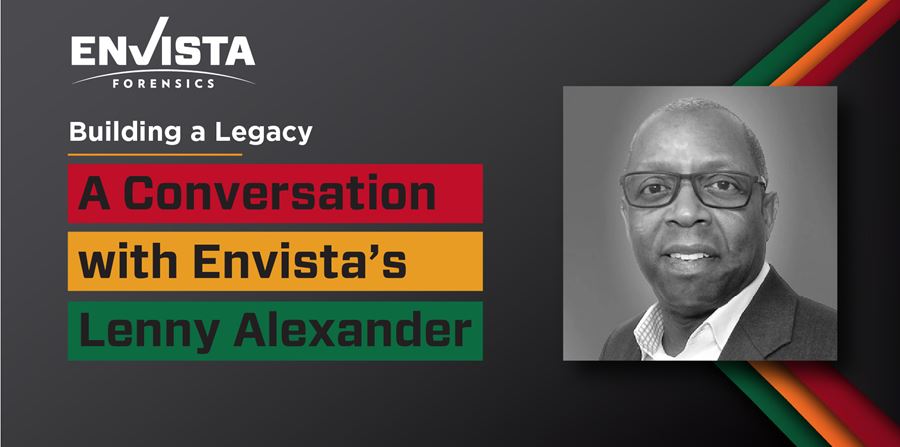 As we wrap up February and Black History Month comes to an end, we share an interview Jennifer Gaster, Envista's Chief Marketing & Communications Officer, conducted with Chief Experience Officer, Lenny Alexander. Lenny shared some of his background, discussed what inspired him as a young professional, and provided some advice for the future. 
Tell us a bit about yourself.
My teenage parents left the Nature Island of Dominica in the Caribbean, bound for the land of opportunity, known as London, England, in 1957. They believed that English streets were paved with gold and that tales suggesting the hands of Big Ben spanning a mile wide were true. My parents were among the 'Windrush' generation, young and poor, wide-eyed and ambitious.
I am the oldest of seven children. By the age of 12, I worked local jobs en route to school and before returning home. My upbringing was modest, but by and large, I was content.  
Fast forward a number of years and I have been a Director with several global companies. This did little to impress my parents, who marvelled that I was talented enough to work in a warm office. 
Why is it essential that we celebrate Black History Month?  
Being born and schooled in East London, I participated in English history lessons that, while fascinating, did nothing to help me understand my background. I learned history at school through tales of the Battle of Hastings and the Great Fire of London. But the accomplishments of black people that transformed our lives escaped me in childhood. Black History Month enables us to celebrate fascinating achievements and demonstrate that we are stronger together. It is satisfying to see companies celebrate Black History Month. I was amongst the first black people working daily in the Lloyds market environment. Black History Month was a pipe dream in the 1970s.  
Who are some black leaders that have inspired you? 
Nelson Mandela's advocacy for peace in the face of adversity is awe-inspiring. He disarmed enemies with his smile, positive thinking, and high levels of forgiveness. His ability to see the big picture and focus on goals and missions beyond himself is inspiring. 
I remember movies that starred Sidney Poitier from a young age. He broke the colour barrier in the film industry by becoming the first black man to be awarded an Academy Award for best actor.
And then, of course, Martin Luther King's ability to motivate hundreds of thousands of people to stand up for civil rights through his God-given preaching talent is remarkable. The courage he showed to address issues of segregation and racism is way beyond my comprehension 
What led you to a career in insurance? 
My introduction to insurance was purely circumstantial. The decision to cut short studying advanced Russian language and English literature was the first grown-up decision I ever had to make. It resulted from pressure to take control of my poor social status, so a growing family forced me into drastic action. My first interview was successful and I was offered a job as an insurance clerk with a small agency which evolved into Aon, the large global broking firm as we know it today. 
I recognized that there were few other black people in the Lloyds environment. It took years for me to learn how to manage the 'imposter syndrome' that I lived with back in the early days before a spark in my head snapped me out of it. Since then, I doubt that another industry could have afforded me as many opportunities and experiences. I have been lucky enough to have gathered many friends and colleagues and travelled worldwide.  
Have you faced any challenges as a minority in the insurance industry?  
My biggest challenge was my lack of confidence. I worked for former managers who struggled with what impact promoting a black man would have on their fortunes, so they chose to stay on neutral ground. There were equally few women around when I started in insurance, and many of my successful female friends describe experiences similar to mine.  
How can diverse teams improve how we work? 
The world has become a smaller place. The standards required to conduct business makes the work environment more competitive and less forgiving of substandard behaviours. International clients are equally less tolerant of mediocracy, including prejudice of any kind. To deal with this effectively, diverse teams conducting business are strongest operating in unison.  
What is the best career advice you've received? 
Be authentic, and be your best self often. 
Lenny Alexander is the Chief Experience Officer at Envista Forensics. Based out of London, Lenny has been a fixture within the insurance industry for well over three decades. In addition to his duties as CXO, Lenny is passionate about DE&I and is hopeful that tomorrow's future generation grows to live in a world where we are stronger because of each other's contributions. 
Har din virksomhed været udsat for skade?
Vores eksperter kan hjælpe dig!