Global News, Fire Investigations
The Dangers Associated with Landscaping Material Fires
29 juni 2022
Artikel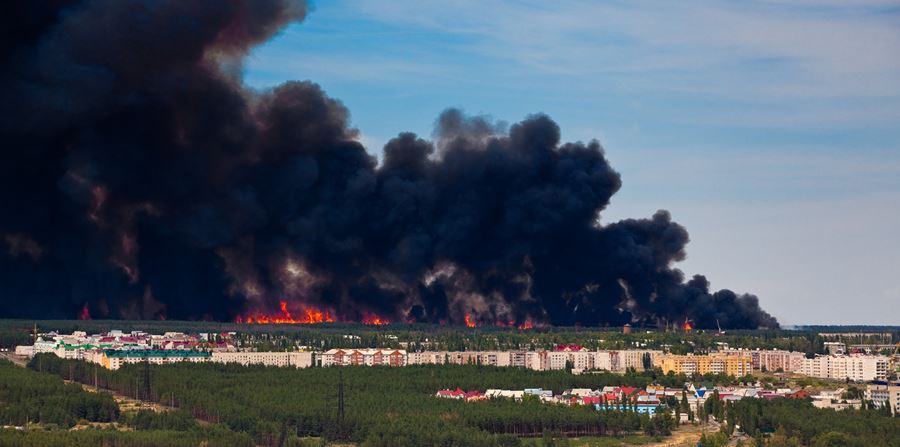 Video: Mulch Fire in the Cleveland Flats
The mulch fire that occurred in Cleveland, Ohio last week reminded us that something as mundane as mulch can be a great fuel source. When a mulch fire occurs, a fire investigator can examine the scene to determine the cause of the fire. Typically, the cause of a mulch fire is either spontaneous combustion, improperly discarded smoking materials, or a combination of both factors.  
Common Causes of Mulch Fires
Spontaneous Combustion
Spontaneous mulch combustion occurs when heat builds up within a thick layer of mulch, roughly six inches or more. If enough heat builds within that layer, it can start to smolder and cause a fire.
Several additional factors increase the risk of mulch fires, including the type of mulch and weather conditions like below-average rainfall, dry conditions, warm temperatures, and high winds. Some of the risk factors for mulch fires were present in Cleveland, especially high winds that helped the embers travel to other mulch beds and extend the fire.
Certain materials increase the risk of mulch fires. Shredded rubber, pine needles and shredded cedar bark have among the highest hazardous combustion characteristics due to their lighter weight, airflow, and insulation. Although shredded rubber is not a natural woody mulch, it is still flammable and will smolder and flame.
Improperly Discarded Smoking Materials
Improperly discarded smoking materials are a common cause of most commercial landscaping-related fires. Individuals smoking normally discard their cigarettes when they exit their car or are walking through a parking lot or along a sidewalk, many of them are not aware or think about how they just tossed a smoldering cigar or cigarette into combustible material.
Because embers can smolder for hours before the correct combination of fuel, heat, and oxygen is achieved and transitions to an open flame, the individual that caused the fire is long gone before seeing the repercussions of their actions. Firefighters in Cleveland believe that an improperly discarded cigarette may have provided the initial spark that resulted in the long-smoldering fires in the Flats.
Fires like the ones in Cleveland are surprisingly common but only receive media coverage when they result in significant loss or occur during severe weather events such as droughts. These types of mulch fires should serve as a warning to the public to be cautious, especially in conditions that could lead to fires spreading.
Regulating the Use of Mulch Around Structures to Prevent Fires
Due to the potential dangers of mulch, many states and municipalities have enacted regulations regarding the placement of mulch near structures. For example, in Massachusetts, regulations "prohibit the new application of mulch within 18 feet of combustible exteriors of buildings, such as wood or vinyl, but not brick or concrete." Though residential buildings with six units or fewer do not necessarily have to follow these regulations, all homeowners are encouraged to do so. Many other locations have similar requirements for mulch placement in the interest of public safety.
When hearing about mulch fires, many people wonder if there are spray-on or fire-retardant treatments for landscaping. While there are products available, several factors can affect their longevity and effectiveness. Long exposure to sunlight (UV) or degradation from water due to irrigation systems or rain can prevent these treatments from lasting a long time. The retardant will remain effective as long as it continues to adhere to the treated fuel, which can be days, weeks, or months. When the retardant is no longer on the fuel, retreatment is recommended.
With the ongoing challenges of climate change, mulch fires like the ones in Cleveland will, unfortunately, continue to be an issue in the future. The three best ways to prevent these types of fires are being observant and calling 911 if you see smoke, being responsible for your actions, and supporting continued revision of regulations.
Har din virksomhed været udsat for skade?
Vores eksperter kan hjælpe dig!