Marine
Inland River Allisions: Engaging the Right Expert
15 marts 2022
Artikel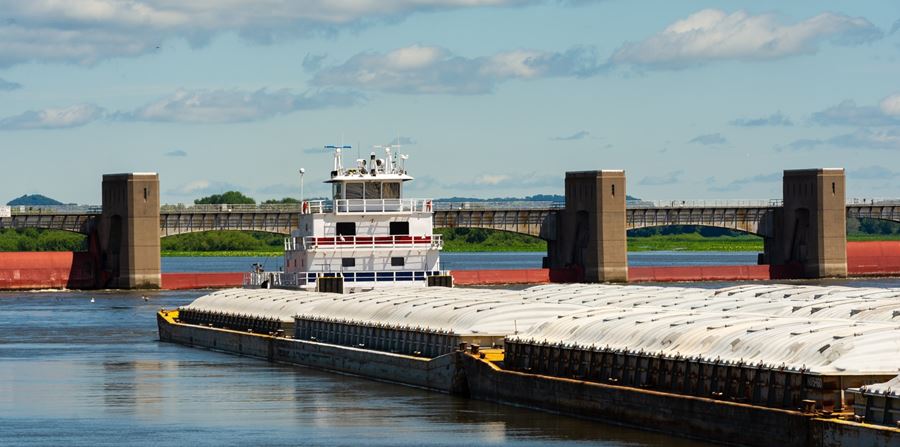 The United States has 12,000 miles of commercially active inland and Intracoastal waterways with 191 lock sites maintained by the United States Army Corps of Engineers (USACE). These waterways enable the movement of 630 million tons of cargo valued at over $73 billion annually. Inland and Intracoastal waterways provide for efficient transportation of freight with tows consisting of as many as 40 barges and 15 on larger rivers with locks.1
All of this efficiency and vessel traffic are met with the risk of river hazards, especially in the vicinity of locks and dams. The potential for vessel allisions with the locks and dams increases as water rises and river currents strengthen. Vessel allisions with locks and dams can quickly become complicated, as the damage to the vessel and the impacted structure can present a difficult and often very costly repair. 
The Rise in Vessel Marine Accidents
Over the last four years, between 2019 to 2022, the U.S. saw an average of 25 individual vessel marine casualties involving a lock or dam each year. In 2019, the Upper Mississippi River, Arkansas River, and Missouri River, which drain into the Lower Mississippi, all flooded and multiple records were set in the U.S. for the length of time river levels remained at major flood stage.2 In 2021, the U.S. saw a total of 19 accidents connected to locks and dams, which is a decline from the high of 29 in 2019. 
Given the impact of climate change on frequency and intensity of storms, it is likely that high river levels and the number of marine incidents on the rivers will not be an anomaly.
Currents and River Hazards
River currents can be dangerous when near locks and dams, as they are often strong and fast in these areas. The undercurrents that develop near locks and dams as so strong that they can pull vessels under the water. Due to this catastrophic hazard, vessel traffic is often restricted in the vicinity of locks and dams to defend against these hazards. Specifically, the area 600 feet upstream and 150 feet downstream from a dam is typically restricted from all vessel traffic.3 High river levels, like the record river levels in 2019, can also bring about stronger river currents due to the increased volume of water in the river.
Vessel Collisions and Accident Reconstruction
Despite the best intentions of vessel operators, allisions with locks and dams still occur. When they do occur, the damage to the lock or dam is surveyed for scope of damage, usually by the USACE and a marine surveyor retained by the involved vessel's operating company. During this early period, it is important to review the damage claimed to be caused by the involved vessel as this is the best time to address a dispute regarding pre-existing damage or alternate causation. 
Forensic naval architects and marine engineers with accident reconstruction experience can aid in recreating the allision through examination of the vessel's track, speed, navigational drafts, markings on the hull, structure appearance, river levels, currents, witness statements, and other evidence to produce visuals and reports proving or disproving claimed damages. It is important that the accident reconstruction expert be familiar with Inland Navigation Rules and Regulations and specific information and guidance provided by the USACE for each lock and dam. This specific information includes lock signals, lockage priority, restricted areas, no-wake zones, and other site-specific information as applicable.    
Scope of Repair    
Once all parties agree on the damages caused by the vessel accident, surveyors will recommend repairs. It will be important to review the repairs recommended to ensure concurrence on the plate and structural member replacement that is required to restore the damaged section. 
Forensic civil/structural engineers with lock and dam design and repair experience can review the repair scope and opine whether the recommended repairs are sufficient, insufficient, or beyond requirements. These experts base their determination on a review of plans and engineering drawings, construction plans and documents, surveyor reports, photographs, and a site visit as necessary. It is particularly helpful if the engineer has previous Department of Defense (DOD) or USACE-relevant design or repair experience.
MATOC Contract Repairs
Repairs for damages to locks and dams are typically procured through the government's normal competitive procurement process for Multiple Awards Task Order Contracts (MATOC). Under a MATOC, multiple awardees are chosen to provide services within a pre-defined maximum dollar amount. MATOC contracts enable contractors to compete with a limited pool during a three-to-five-year agreement with the USACE. The advantages of the USACE include having access to prequalified contractors and the ability to get repairs started more quickly. 
The USACE begins soliciting their MATOC river repair contractors for bids on the repairs and typically accepts the lowest proposal from a MATOC contractor that is deemed to meet repair requirements including cost and timeline. This accepted preliminary repair bid is presented to the party that is considered at fault for the damages. They are then offered the opportunity to seek a more affordable river repair contractor that meets all government requirements. If an alternate contractor is utilized by the party considered at fault, the repairs will be completed at their expense. 
This creates additional risk as contract work that occurs on rivers can result in unexpected delays and unforeseen challenges due to the nature of working in a hazardous river environment. Costs can exceed original estimates and even go beyond what the USACE would pay their MATOC contractor based on a pre-negotiated maximum. 
It is critical to engage a building consultant that is familiar with the nuances of MATOC contracts and the DOD competitive procurement process, often through work as a MATOC contractor. Building consultants can review the details of the MATOC contractor's bid for details like labor hours and rates, material quantity and cost, and assets utilized and day rates. Building consultants can also help identify and seek alternate bids for the repair job that would meet government requirements. It is vital that building consultants are engaged early, as the settlement process becomes more difficult once the repair work by the MATOC contractor commences.
The Importance of Forensic Experts in the Claims Process
Upon completion of the repairs by a MATOC contractor, the USACE will typically provide an itemized bill for collection to the responsible party. This bill provides the actual cost incurred by the government in repairing the damage caused by the vessel allision with the lock and dam. Compromise or settlement (anything less than full payment) is difficult at this point but not impossible. The specific authority to negotiate or compromise the claim amounts is dictated by Army Regulation (AR) 27-20 and United States Code based on the claim amount. 
For example, claims settled or compromised in a net amount exceeding $500,000 must be investigated and processed, approved by the Secretary of the Army, and certified to Congress for final approval. Approval of compromise or settlement is further delegated for amounts less than $500,000, $100,000, or $50,000 per AR 27-20. Even at this late stage, engaging the experts mentioned above can still provide answers and aid in decisions made on settlements or the pursuit of further legal action. Early engagement with the USACE is always preferred so effective collaboration can produce a settlement everyone is aligned with along the way, rather than being caught off guard later in the process.
The claim settlement process, when working with the USACE, is governed by United States Code and Army Regulation. Vessel owners and operators, as well as their insurers and maritime attorneys, are typically less familiar with procedures and technical processes than ordinary claim settlement processes. Repair contracts awarded by the USACE have their own nuances and may involve agreements with specific contractors. 
It is recommended that parties involved in a vessel allision with a lock and dam identify forensic professionals familiar with the complexities of this process. Forensic experts with specific expertise in naval architecture, marine engineering, civil/structural engineering, and building consulting help ensure the scope of damage is accurate, repair proposals and estimates are fair and reasonable, and materials, assets utilized, and labor are consistent with the claim of damage.  
Know the Process and Find the Right Experts  
Vessel allisions with locks and dams can quickly become complicated, as the damage to the vessel and the impacted structure can present difficult and costly repairs. It is essential for those involved in vessel allisions with locks and dams to identify and engage early naval architects and marine engineers, civil/structural engineers, and building consultants that are experienced with the process. Early engagement of these experts will ensure the process is understood, agreed to, and reasonably controlled to ensure cost of the repairs is kept to a fair and reasonable amount.
Sources:
1 USACE Inland Waterway Navigation Value to the Nation
2 https://www.climatesignals.org/
3 Boating on the Big River, Minnesota Department of Natural Resources
4 USACE Safety in Locking Through, March 2016
Har din virksomhed været udsat for skade?
Vores eksperter kan hjælpe dig!