Marine, Global News
Collisions at Sea: One Violent Moment Filled with Risk for Marine Insurers
15 April 2021
Article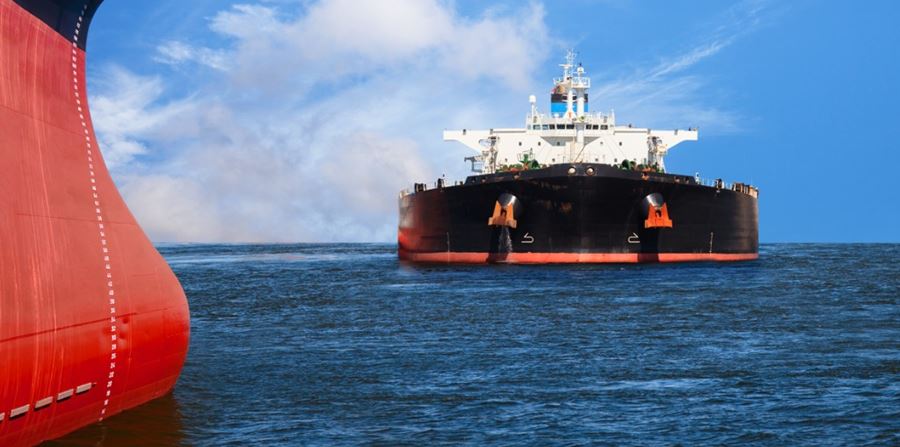 Last Wednesday night, the Panamanian-flagged, 2021-build tank ship Rich Rainbow collided with the Marshall Islands-flagged 2011-build bulk carrier Ivy Alliance approximately three nautical miles off the coast of Cavite City, Philippines, in the Manila Bay. This single moment is a perfect example of the risk and liability incurred by vessel owners, operators, and marine insurers. When a marine casualty like this occurs, there will initially be more questions than answers for the affected marine insurers.
Following COVID-19, delayed delivery and port congestion are at an all-time high worldwide. With this increased congestion, collisions between vessels are not a matter of if, but when.
Using this latest collision as an example, we will discuss the various damage and impact to the ships, their equipment and systems, as well as when and why you should engage a marine surveyor, marine engineer, or naval architect.
Overview of the Rich Rainbow and Ivy Alliance Collision
Rich Rainbow was loaded with gasoline while Ivy Alliance was carrying coal. In a single instant, on April 7, these two large cargo ships, weighing over 50,000 deadweight tons each, had a violent, damage-inducing impact from a collision.
The initial damage report from the scene includes a gash ranging from 50-65 feet in the starboard side shell above the waterline for Rich Rainbow and an opening of 32-50 feet in the forward starboard bow above the waterline for Ivy Alliance. The vessels were detained by local authorities at anchorage for investigation and survey regarding this incident with an inevitable substantial delay to the intended delivery of both vessels' cargo.
Site Visit and Initial Survey
The best place to start after a collision is on-scene of the affected vessels. Marine surveyors will need to provide a detailed report of damage sustained to the vessel, provide a recommended repair scope, and estimate the time and materials required to make the repairs. These damages will typically be covered by Hull and Machinery insurers.
As a marine surveyor retained by one of the vessel's insurers, it may be required that liability for the collision be considered. In this case, it would necessitate an on-scene investigation, reviewing the details of the damage to both vessels. An initial hypothesis may be that the damage to the Rich Rainbow's starboard sideshell is from a starboard bow impact from Ivy Alliance. This may have been a crossing situation governed by international steering and sailing rules. If this is the case, Rich Rainbow should have given way to avoid crossing ahead of the Ivy Alliance as Ivy Alliance was crossing from her starboard side.
However, it is important to examine all of the facts before making that conclusion as the navigation situation governed by the rules can change depending on the circumstances on each vessel. It will be important to review speed and courses for both vessels, weather conditions, drafts, any cargo losses or pollution, electronic and paper logs, and functionality of propulsion, steering, navigation, and communication equipment onboard the ships. Ultimately, the surveyor will base any conclusions and recommendations on the evidence and factual information collected. It is common for one-fourth of collision liability cover to be retained by the Protection and Indemnity (P&I clubs), with the other three-fourths covered by Hull and Machinery underwriters.1
Many questions will be answered after the marine surveyor provides their formal report, but some questions will remain. The ships will most likely need to make the recommended repairs at a shipyard. There will be a required transit to the shipyard, which isn't always at the closest port. The shipyard must have drydock or dockside availability and be able to handle the repairs required. Insurers will incur additional risks during this transit that must be managed. These risks include the structural integrity of the hull in way of damaged sections and stability, especially considering the possibility of any potential down flooding of the hull through damaged openings in the shell plate. The marine surveyor's accurate description of the damage will feed directly into the next phase review by naval architects and marine engineers.
Ship Structures
While damage surveys of the impacted area may quickly reveal the extent of damage to the ship, it will take a trained naval architect to determine the impact on the longitudinal strength of the vessel. Just as drilling a hole in a piece of lumber would cause that section to be weaker, damage from a collision to the hull girder of a vessel can weaken its longitudinal strength. An engineering analysis of the surveyed damage will determine if the ship has adequate strength for transit or if temporary repairs are necessary.
A review of the local structure impacted by the collision will determine any changes to the watertight integrity of compartments and bulkheads. Should there be impacts to the vessel's internal arrangements and water-tightness, a review of the vessel's damage stability booklet is required to ensure a final transit to a shipyard does not subject the ship to excessive risk.
Ship Stability
Any indication of flooding requires that immediate action be taken to control the flooding and ensure the vessel remains stable. A trained crew with an accurate onboard loading computer can ensure immediate stability, but in the days following a casualty often an experienced Naval Architect with expertise in damage stability is required to ensure a vessel remains upright in a damaged condition as it transits to a shipyard for repair.
After any breach of the hull, a vessel runs the risk of flooding. Even when the damage survey yields little or no impact below the waterline, there is a risk of down flooding into voids from damaged pipes or tanks, or from an increased sea state through damaged shell plate openings. Should the collision have also impacted below the waterline, there will likely be significant flooding. The location and extent of flooding, the types of spaces impacted, and the pre-collision loading condition all influence the severity of a flooding casualty.
If liquid tanks above or below the waterline have been impacted, a partial release of fluid may result in slack tanks. The resulting sloshing of liquids in a partially filled tank (known as Free Surface Effect), especially when exacerbated by high seas, can result in instabilities. Immediate action must be taken to reduce liquids in partially filled tanks to maximize ship stability and ensure safe transit for repairs.
Machinery
The initial marine survey may reveal that the collision involved a casualty to the propulsion or steering for one of the involved vessels. The surveyor could identify the issue but may require a marine engineer to get involved as damage estimates and costs for repairs can get complex. A marine engineer is trained to design these systems and can provide professional engineering services to ensure any repairs are within the design parameters and consider all potential concerns.
Delay of Cargo
Hull and Machinery insurance covers the cost of repairs but does not cover lost revenue due to the delays induced by the required repairs. P&I typically covers much of the liability, legal, and other costs, but does not typically cover losses as a result of delays. Vessels often have a Loss of Hire cover that has a 14-day standard deductible, making it only helpful for longer delays over this two-week period. Delay Insurance can be held for ships, removing this 14-day deductible, but is not a standard coverage.
Risk of Vessel Collisions Increasing
It is estimated that as much as 90% of global trade is carried by sea.2 Meanwhile, the TEU capacity of the container fleet has grown by 75.6% between 2017 and 2020.3 Cruise ships, tank ships, bulk carriers, and essentially all available marine shipping have also had incredible growth in length, breadth, deadweight tonnage, and cargo volume. The COVID-19 pandemic has reduced the number of workers at terminals and delayed delivery of cargo. As a result, port congestion is at an all-time high worldwide, making the chances of a collision much more likely. Insurers must be prepared to react quickly with expert marine surveyors, naval architects, and marine engineers after these violent marine casualties.
Sources:
1standard-club.com
2ics-shipping.org
3hellenicshippingnews.com
Has a recent catastrophe affected you?
Our experts are ready to help.