Company News
Envista Forensics Gains Great Place to Work Certification
Chicago, IL – 11 november 2021
Envista Forensics, a leading global forensic consulting firm has been recognized for their workplace culture and employee experience with Great Place to Work® CertificationTM.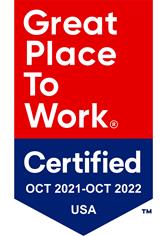 The accreditation comes on the heels of the pandemic, which has proved to be a trying year for many organizations, and yet despite the challenges, Envista continued to put their employees first. In fact, according to the company's survey results used for the certification, more than 80% of employees said they were proud to tell others they worked at Envista. Employees also scored the company 23% higher than the national average when asked if it was a great place to work. 
"We are so proud to have secured a Great Place to Work® CertificationTM," said Jewel Evans-Darrington, Vice President, People & Culture. "We have always had a strong foundation and even through COVID and experiencing significant growth over the last few years, our commitment to the individual employee experience didn't change. These results demonstrate the amazing power of the team we've built and the opportunities we've put into place at Envista."
Great Place to Work® CertificationTM is recognized globally as a benchmark for exceptional workplace culture and employee experience. It is the only recognition based entirely on employee responses to their workplace experience and environment. The surveys help organizations create actionable insights for further enhancements and innovation.
"I feel honored to lead an organization that continues to create meaningful career paths across the different countries in which we operate as well as increasing our level of support for employee wellbeing initiatives, such as our focus on equity for all employees whether that be for fair compensation practices or promotion opportunities," expressed Christina Lucas, President. 
"Building a safe, inclusive environment should be the foundation of any organization today and this is paramount as we continue to attract diverse talent globally. Similarly, finding ways for employees to go beyond the work, as we call it, or be engaged in something larger than themselves. Envista is not just a job, it's an opportunity. An opportunity to educate and help others, whether that be for each other as colleagues or for our clients. We further infuse our core guiding principles into our culture by providing employee engagement groups for philanthropy, sustainability, innovation, women's empowerment, and more."
This year, Envista also made the list for Inc 5000 Fastest-Growing Private Companies in America. To learn more about Envista or to check out career opportunities, visit www.envistaforensics.com.